RV: So we're cheating a bit here. We wanted to make sure we caught up on some reviews we've had on the back burner, so if you've noticed a lot of high scores lately, it's because we are cherry picking some must watch TV and film to go along with awards season. Let me start of by saying that Stranger Things is really a perfect example of why we are currently smack-dab in the middle of a golden age for television.
HBO showed us the light and brought forth the dawn by pulling us out of the traditional 24 episode seasons (Yikes!) Now streaming services (Netflix, Hulu, Amazon) are taking it to the next level. I can't even watch a 24-episode season now without feeling bored. It's too much. The 8-12 episode instant season that Netflix has shown us that traditional television is just too effing bloated. No more 23 cliff hangers to drive the audience to the next episode and unravel excellent story ideas and character depth into a mishmash of nonsensical Deus Ex Machina.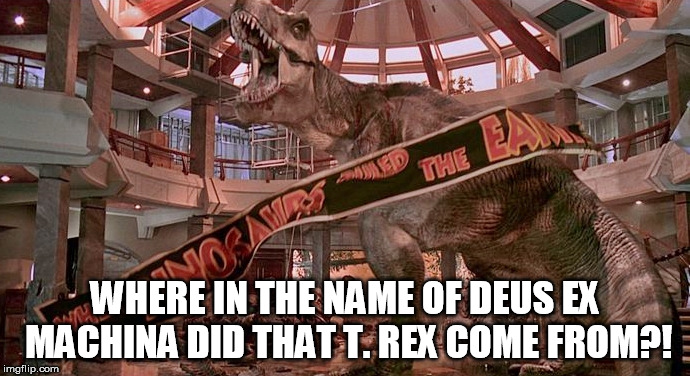 On paper, Stranger Things should suck, or at least only appeal to small audience. It's very Stephen King-inspired, and we know how hit and miss that can be. It's also got a lot of unknown actors and requires a lot special effects. However, Stranger Things serves as the perfect example of why the new Netflix format works so damn well for almost every genre. When (not if) you start watching this amazing show, you will never once feel like you are watching a TV show. No shitty cliff hangers, no shitty acting, and no jarringly bad special effects. This feels like a feature length movie from episode 1 to episode 8; the only difference being the fact that Stranger Things actually has enough time to world build (the Achilles heal of most sci-fi movies).  Everything about Stranger Things screams Hollywood polish. The acting is also top-notch. Yes, Winona Ryder is at her best, but how did they find such perfect unknown kid actors (Sidenote: This fact makes me hate M.Night Shyamalan even more for his horrible casting of the Last Airbender).
T: Holy shizz, this show is so good. Despite my devotion for Orange is the New Black, I think this is the best Netflix show to date. True, I haven't watched House of Cards, but I'm not entirely sure how any show can be better than this. I really do not want to give away any major plot points here because you really should just find out for yourself how wonderful this show is, but with that said, I will address some of my favorite things from Stranger Things that cannot be missed:
As Red Vines addressed above, the first season is only eight episodes long. It feels more like a mini-series than a show. But a good version of a Stephen King mini-series – more terrifying than Tommyknockers and more comprehensible than whatever the hell that Rose Red shit was about. The show balances well with wrapping up the season in a way that feels satisfying while leaving you with enough suspense and curiosity to come back to Season 2.
This show is nostalgia at its finest. The throwback '80s couture, classic filmography, Winona Ryder in a lead role – the show will transport the older audience members to a time associated with more charm and innocence; the younger audience will find humor in the bad haircuts and mom jeans. Either way – it's fun.
The casting. My god. It's been done: a perfect cast. Seriously – you'll love every single one of these cast members. I mean – just look how amazingly cute they are: And if for some reason you watch the show and don't find them awesome…well then, you just suck. #sorrynotsorry
Tone is on point. It is so hard to find a show that manages both the hilarious and horrible; poignant and repugnant; fantastical and frightful. But they did it. And did it so well. 
Our girl Winona is back and better than ever. She manages to revive the qualities of some of her best characters while at the same time bringing a fresh sense of maturity to her acting. She wonderfully weaves the broodiness of Lydia , the sensitivity of Kim, feistiness of Jo March, and the kookiness of Veronica Sawyer. Her presence alone brings even more nostalgia to the mix, but her acting merits prove she serves more than just another '80s element.
Barb. There is nothing better than Barb.
5 Red Vines – Don't keep this curiosity door locked any longer. I'll even let you steal my parent's Netflix like I do (username: Ima; password: cheapskate).
5 Twizzlers: There is nothing strange about it – this is the most fun you'll have watching television this year.